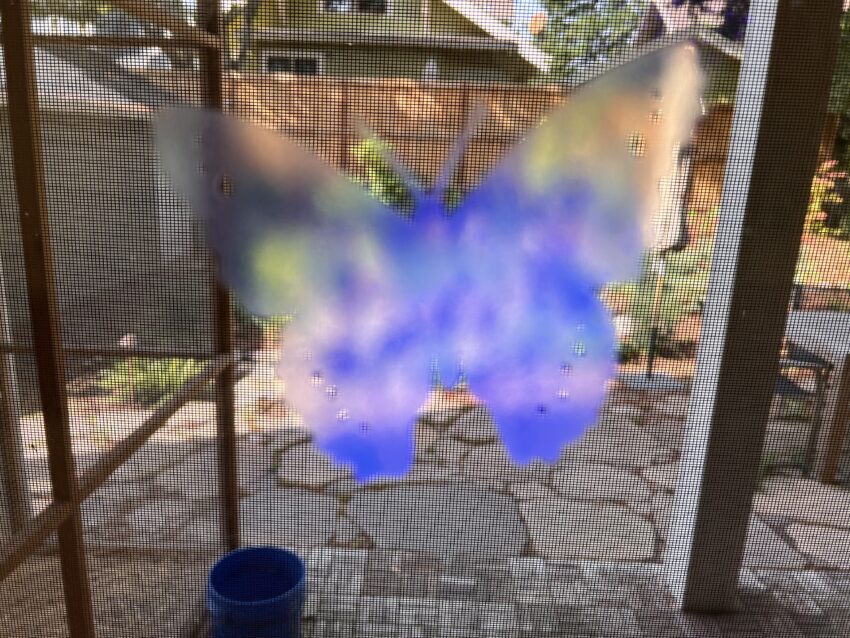 Avoid window collisions inside your home
Avoid window collisions inside your home
Research beginning in the late 1970's shows that window collisions are one of the top sources of mortality for [wild] birds, ranked second only to habitat destruction in terms of impact. Today, collisions are estimated to account for the death of up to 1 billion birds annually in the US alone.

Resource Guide for Bird-friendly Building Design—Portland Audubon
There are many possibilities for reducing window strikes from wild birds outside. Still, none are specifically tailored for the opposite problem: keeping birds inside your house from hitting your windows. We don't want the fear of injury to keep us from letting our birds out of their cages.
Portland Audubon has two excellent resources on the topic of window strikes. They are even better than those provided by the national Audubon organization. The first one is geared towards homeowners and is the most comprehensive list of possible solutions I've found.
Tips for Reducing Window Strikes at Home
Then, there is a much more comprehensive PDF (68 pages!) that also includes suggestions for incorporating bird-friendly concepts into entire buildings, either newly built or retrofitted. There is also an amazing amount of detail on how bird vision works and the effectiveness of various solutions. There is some incredible photography showing some of the ideas in action.
Resource Guide for Bird-friendly Building Design—Portland, Oregon
Here's a one-page summary of the topics discussed in the PDF:
Again, since these are all solutions intended for building exteriors, I was left wondering how well they work for those fortunate enough to have birds inside their houses.
Window stickers
I've tested two different types of window stickers applied to the insides of windows. Here is a photo of one window where I put WindowAlert stickers on the top half and CollidEscape dots on the bottom.
WindowAlert
These decals are probably the most popular option. They can be purchased from the manufacturer or at any wild bird retailer. I covered the window in the photo using nine stickers, which would require three packs of four stickers. Total price: $24. Don't skimp on stickers: place them no further than 4″ apart horizontally or 2″ apart vertically, per Audubon.
They have a UV coating that activates when exposed to natural light.
My experience is that these stickers are very effective. I've had indoor birds initially graze a window after putting up these stickers. They appear to notice them but sometimes misjudge their turns as they get closer to the window. It didn't take long for them to figure it out, and that issue disappeared. I've never had a bird strike a window directly.
The manufacturer says they "fade based on exposure". My interpretation is that this would not be an issue with using the stickers on the inside of windows. In fact, I tested my currently two-year-old stickers, and they still glow purple under a UV flashlight.
What about outdoor birds? I've not had outdoor bird strikes either, but it wasn't a problem for me beforehand. My windows are about eight years old, and testing with a UV meter shows that about 10% of UV-A radiation passes through my windows.
Using a UV flashlight from the outside also shows UV passing through the glass to reach the indoor sticker. My conclusion, presuming your windows allow UV light to pass through, is that these stickers are probably useful to deter outdoor bird strikes. If I shine a UV flashlight from the outside of a window with a WindowAlert sticker on the inside, the sticker is getting activated.
The manufacturer sells many nice designs as well as other products like a gel that can be applied to windows. The stickers are reasonably attractive, but they do block the view somewhat, especially if you are closer to a window. Also, it's hard to avoid having any bubbling up of the stickers. Finally, if your birds can reach the stickers, they will undoubetdly try to eat them.
CollidEscape
These stickers come in white or clear squares or circles. I needed 33' of tape to do a window that is 3' wide by 2.5' high, so the cost was about $70. So this is much more expensive. It's more of a chore to install them. You really want to spend the time to get it right or you'll have rows of dots that aren't aligned. It'll probably drive you crazy. Unlike the stickers, you can't move them around once they have been applied.
However, I found these to be very attractive, almost stylish. Since they don't use UV as a deterrent, access to natural light is not an issue. They should work equally well for outdoor birds, even if applied inside a window. They are quite durable. I don't know whether a bird would destroy them as the ones I have are difficult for birds to get to.
I'm using these dot stickers in an indoor aviary and have not seen any issues with birds striking the glass. The manufacturers claim that this product will reduce collisions. They also sell a window film that they claim is guaranteed to prevent collisions. The big downside with the film is that you either lose or degrade visibility through the window. It's basically like turning your window into privacy glass.
Bird glass
We turned our family room into an indoor aviary, which I will write about in a future article. Instead of putting up a wall of cage wire between our dining room and living room, we wanted to put up a glass wall. We learned from the Portland Audubon document mentioned earlier that there were many companies making "bird glass".
Ordinary glass becomes bird glass through "invisible" UV coatings or layers or through visible etchings or screen printing. We looked at two types of glass that use UV coatings. The ones with visible etchings are similar to the CollidEscape dots, but more subtle and built right into the glass. Many of them are quite beautiful.
GLASPRO
We received samples from GLASPRO, a California company. Their product is two layers of glass with a layer of UV film in the middle.
We didn't end up using this product. Pricing was similar for the two products we looked at, but we felt that the UV pattern on the GLASPRO was more noticeable to humans. We were planning to have a UV light inside the aviary for protection at night, making the UV pattern quite visible in the GLASPRO glass.
Arcon ORNILUX
Ornilux is a bird-safe glass from Arnold Glas, a German company. Instead of a layer of UV film in the middle, Ornilux can coat each layer of glass and has the option of two or three layers of glass. This solves the problem of UV light having to pass through the glass to activate the UV film. And instead of a bar pattern, it looks more like a random spiderweb. We found it very difficult to see the pattern in any lighting, even at night with a UV bulb.
Although prices are coming down due to increasing competition, be prepared to pay prices similar to what you'd pay for storefront glass. Both companies were quite willing to do a "small" project, although a larger order would get more favourable pricing. We needed two window-sized panes of glass and then one large pane, approximately 77 inches by 102 inches.
Of the two companies, Arcon was far more knowledgeable about birds, taking a very specific interest in the species of birds we kept as they have different visual capabilities. They provided research into how birds perceive UV and which solutions are most effective. They seemed more like a bird company that made glass than a glass company that branched out into bird glass. They were also very excited about our project as it was very unique. Although I'm unfamiliar with the American Bird Conservancy, they also endorse Arcon's products.
Given that our natural light would be filtered through windows, we wondered if there would be sufficient UV light to activate the glass. We asked the companies whether artificial UV light would work. GLASPRO wasn't willing to make a statement, but Arcon confirmed the glass would activate. However, they wouldn't make any guarantee that it would be enough of a deterrence for birds. We were pretty much a test case.
So, did it work?
Similar to the stickers, some of the birds would initially graze the glass before learning it was there. However, we ran into some trouble with birds panicking, like we suspected. A couple of birds in particular (cockatiels) would strike the glass when panicking. It wasn't enough to injure them, but sometimes they would get startled for a moment and walk around on the floor a bit before flying back to a perch. We had installed an overhead UV light for nighttime but based on our UV meter, it was just not strong enough to reach the glass.
As a temporary measure, we placed some high-powered UV lights on the ground, pointing up at the glass. This worked. After a few weeks, we removed the lights, and they all learned where the glass was. We've not added new birds since then, so it's unclear whether we would have to repeat the learning process.
Conclusion
The two sticker options I tried were very effective. The glass was effective but had a learning curve. I suspect that if the glass were on the house's exterior, it would be totally effective. Perhaps this is something bird glass companies can improve in future iterations of their products.
There seems to be room for specialized products for bird keepers, but perhaps the market is not large enough.
Our aviary glass, installed: