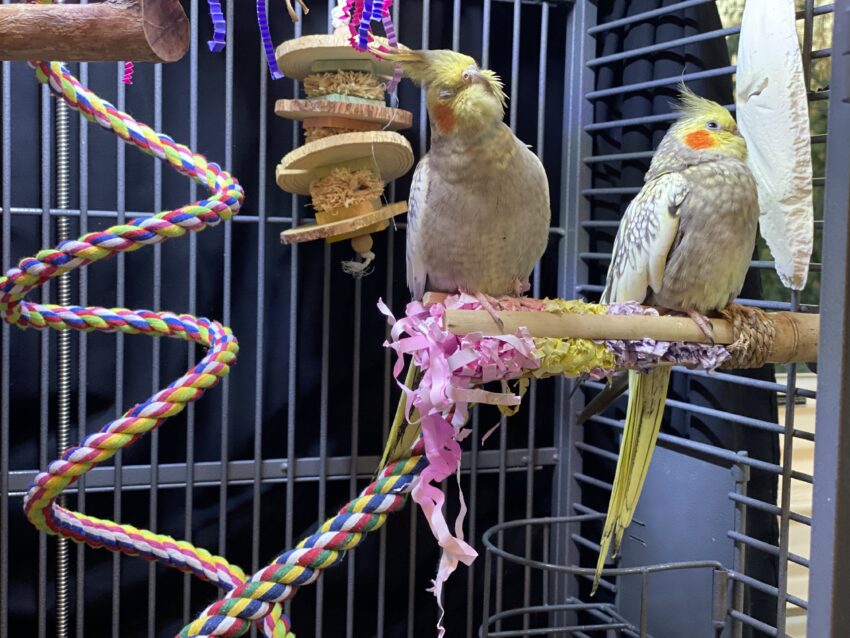 Interior lighting for parrot cages
Interior lighting for parrot cages
In my article about full-spectrum lighting, I mentioned that the light you provide for your bird should mimic outdoor light as much as possible. It should be bright, relatively white, and not distort the natural colours of the environment.
Lighting a cage is difficult. Not only does the cage create shadows, but you may not have overhead lighting where you position your cage. Some cages have covered tops, making it even more tricky.
I took some bird training courses, and one instructor worked in the ambassador animal program at the San Diego Zoo. She said that when they provide lighting for animals, they try to imagine they are lighting a home kitchen. Kitchen lighting needs to be bright, while a living room or bedroom where a bird's cage might reside tends to be more muted.
Enter cage lighting
There's a company that makes LED lighting strips that mount on the inside of the cage. Different lights are designed for different types of birds and their destructive abilities. They are designed and built by M&M Cage Company. Although they make other products, the one that I'll focus on here is called EZ PetLight with ChewGuard.
Many years ago, I attended a talk by the founder of this company. Although he is knowledgeable about avian lighting, he is opinionated and can come across as abrasive. This comes through on his website as well, so don't let that sway you too much!
My review
These lights are bright and very white, like noonday sunshine. I've tested them with a flicker meter and there is no flicker that birds would be able to detect. I've written about flickering lights previously. It's an especially serious issue with LED lights, so it's great that these lights give off high-quality light.
The design of the lights is very spare, not elegant, but they are very slim and blend into the background. The lights and the cord are protected from prying beaks. He claims that they are macaw-proof, but I've only tested them on cockatiels and smaller birds. I'm certain if you had problems, the manufacturer would take them back. I had some problems with a couple power supplies flaking out, and he willingly shipped out newly designed ones which worked without incident. If you're concerned about damage or can't find a good interior mounting point, you can also affix them to the outside of the cage.
They are a bit tricky to install, and I definitely recommend getting someone to assist. One person can hold the light in place while the other screws them in place. They come with all the required hardware. They've installed fine in all my cages, but some cage designs might present obstacles. He sells taller mounting brackets separately that might help for specific cage designs. You can always the lights if they are not compatible with your cages. Once installed, they are very secure.
The power supply is independently replaceable. So if a bird destroys the cord, you don't have to disassemble the system and install a new one completely. Just order a power supply. It's worth noting that the cord on the power supply does not have a protective sheath on it, so a freely roaming bird could damage it from the outside of the cage. If you need to move cages, you can just unplug the power supply to get it out of the way and then reattach it later.
Ranging from $65 to $75 (based on the length of the light module), I feel they are reasonably priced and probably cheaper than upgrading the lighting in your house or purchasing new floor or table lamps.
Conclusion
I have these mounted in four cages and have been very happy with them. After using them a while, when they are turned off in a room with "good" lighting, it's amazing to see how dark the interior of the cages can be! If you have cages that have solid tops, like play top cages, your bird will get far more light with interior-mounted lighting.