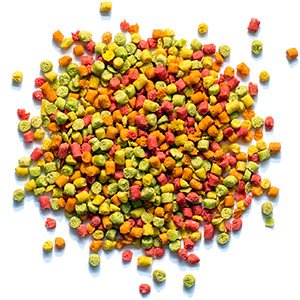 Artificial colors in bird food
Artificial colors in bird food
This is one of those articles I feel like I shouldn't have to write. No creature should eat artificial colors, period. Having said that, there's a ton of research into the hazards of artificial colors to back up my feeling.
The most unequivocal I could find is this one.
This review finds that all of the nine currently US-approved dyes raise health concerns of varying degrees. Red 3 causes cancer in animals, and there is evidence that several other dyes also are carcinogenic. Three dyes (Red 40, Yellow 5, and Yellow 6) have been found to be contaminated with benzidine or other carcinogens. At least four dyes (Blue 1, Red 40, Yellow 5, and Yellow 6) cause hypersensitivity reactions. Numerous microbiological and rodent studies of Yellow 5 were positive for genotoxicity. […] The inadequacy of much of the testing and the evidence for carcinogenicity, genotoxicity, and hypersensitivity, coupled with the fact that dyes do not improve the safety or nutritional quality of foods, indicates that all of the currently used dyes should be removed from the food supply and replaced, if at all, by safer colorings. It is recommended that regulatory authorities require better and independent toxicity testing, exercise greater caution regarding continued approval of these dyes, and in the future approve only well-tested, safe dyes.

Toxicology of food dyes—International Journal of Occupational Environmental Health—Jul-Sep 2012
In addition devastating health effects mentioned, one of the most important lines in this conclusion is "dyes do not improve the safety or nutritional quality of foods" – the bird food manufacturers argue. Let's look at the ingredients of the very popular processed (pelleted) diet pictured above.
Ground corn, Soybean meal, Ground wheat, Wheat germ meal, Sugar, Vegetable oil (preserved with mixed tocopherols), Oranges, Apples, Grapes, Bananas, Calcium carbonate, Dicalcium phosphate, Iodized salt, Natural flavors, DL-Methionine, Choline chloride, L-Lysine monohydrochloride, Vitamins (Vitamin E supplement, Niacin supplement, Biotin, d-Calcium pantothenate, Riboflavin supplement, Pyridoxine hydrochloride, Thiamine mononitrate, Vitamin A acetate, Vitamin D3 supplement, Menadione sodium bisulfite complex (source of Vitamin K activity), Vitamin B12 supplement, Folic acid), Citric acid (preservative), Mixed tocopherols (preservative), Yellow 5, L-ascorbyl-2-polyphosphate, Red 40 , Yellow 6, Minerals (Manganous oxide, Zinc oxide, Copper sulfate, Sodium selenite, Calcium iodate), Color added, Blue 1

Small Birds—Zupreem
So we have 5 artificial colors, not including "color added" which is also artificial because, well, wouldn't they say if it wasn't.
Red 40
Yellow 6
Blue 1
Yellow 5
Red 40
Three of the five were "found to be contaminated with benzidine or other carcinogens"
Four of the five "cause hypersensitivity reactions"
Yellow 5 was found to be "positive for genotoxicity"
Why are artificial colors used?
Good question. None of the pellet manufacturer websites mention why they color their pellets. I've heard various explanations over the years:
It's for the owners so it looks pretty not the birds. For example, a yellow banana-shaped pellet is appealing
Birds respond to pellets of certain colors (no research to back this one up)
It changes the color of their poop so you can tell they are eating the pellets
The last one is legit BUT you don't need artificial colors to make food that has colors. Mankind has been doing that for millennia and continue to do so today. For example, beet juice turns things red. This is not rocket science.
There are also brands, like Harrison's, that don't use any coloring at all and plenty of birds eat them without bright colors.
Conclusion
I'll be harsh here. Check the ingredients of your bird's diets and if there are any artificial colors (Red 40, "artificial colors", anything like that), get rid of it. Don't buy anymore. You are harming your bird for no positive benefit.