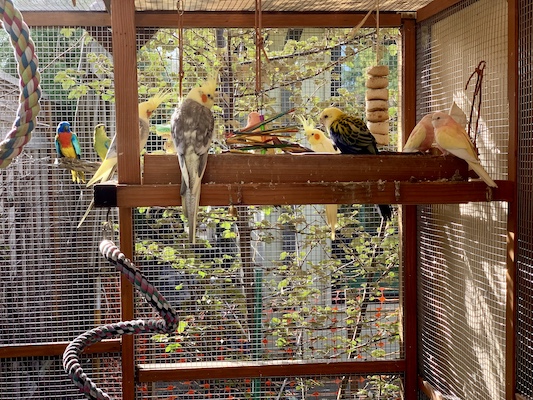 What do my birds eat and drink?
What do my birds eat and drink?
Knowing that I don't believe in processed (pelleted) diets, people ask me what I feed my birds. So I thought I'd share. It's very elaborate but maybe you'll find in it two interesting things to try.
First, note that I have a mixed flock 21 of the following bird species:
Cockatiel
Rosella
Red-rumped parrot
Elegant parrot
Bourke's parrot
Budgie
Since many live in an aviary, separate mixes are not particularly practical. However, my mix percentages remain the same but I may use only budgie mix for a cage only containing budgies, but a mix containing cockatiel and budgie mix for an aviary.
Fresh food
Everyone gets fresh food every morning. Only a few birds are fruit eaters, but everyone gets veggies.
Fruit
Apples, pineapple guava, grapes. And sometimes things we buy for ourselves.
Vegetables
Fresh or frozen corn, sweet potato, celery, kale, dill, dandelion, mustard, parsley, basil, collards, cilantro, thyme, watercress, beans, chard, beet greens. Pretty much any leafy green or yellow/orange vegetable or sometimes things we buy for ourselves.
Other
Eggs are a good addition, although frowned up by vets and other bird keepers. The mix of fat and protein as well as low carbohydrates is an excellent combination. Read more about this in all the articles on diet.
Food mixes
I use 2-3 products mixed together, none of which contain any processed (artificial) vitamins. The use of these products are based on the research above.
The first is an excellent product from Christine's Chop Shop, which contains dehydrated fruit, vegetables, and sprouted seeds, as well as spices, legumes, nuts, cereals, and coconut.
Dehydrated chop, sprouted sunflower seeds, star anise, sprouted lentils, sprouted quinoa, buckwheat, hemp seed, sesame seeds, millet, finely diced dried fruit mix, shredded coconut, pecan pieces, walnut pieces, crumbled date pieces, dried greens, crumbled ceylon cinnamon sticks, unsweetened ancient grain cereals, goji berries, cranberries, sprouted pumpkin seeds, and Birdie Brittle.

Dehydrated chop contains:

We start with a 15-20% base of barley, quinoa, cooked dried beans, chia and flax seed, we then add no more than 10% fresh seasonal fruits, and finally, 70-75% fresh, seasonal vegetables. Ingredients may include; kale and other greens, cabbages, bok choy, carrots, corn, peas, string beans, zucchini and yellow squash, cooked sweet potatoes, beets, broccoli, cauliflower, bell and chili peppers, jicama, radish, snow peas, brussel sprouts, assorted apples, papaya, assorted, seasonal berries and other seasonal fruits and vegetables.

Birdie Brittle contains:

Made with sweet potato and baked apple puree, popped amaranth and quinoa, pepitas, almonds, walnuts, pecans, red palm oil, chamomile and Ceylon cinnamon.
For cockatiels or larger birds I use this food mix:
Canary Grass Seed, White Millet, Safflower Seed, Canola Seed, Oat Groats, Sesame Seed, Sunflower Seed, Caraway Seed, Flaxseed, Coconut, Raisins, Bananas, Carrots, Hemp Seed, Apples, Macadamia Nuts, Walnuts, Almonds, Pine Nuts, Pistachios, Cashews, Filberts, Pecans, Brazil Nuts, Soybeans, Cranberries, Mangos, Orange Peels, Green Beans, Peas, Spinach, Green Bell Pepper, Red Bell Pepper, Celery, Parsley, Broccoli, Zucchini
For budgies and small parakeets, I use this food mix:
White Millet, Canola Seed, Niger Seed, Canary Grass Seed, Oat Groats, Red Millet, Apple, Coconut, Carrot, Mango Dices, Hemp Seed, Sesame Seed, Flaxseed, Anise Seed, Poppy Seed, Caraway Seed, Banana, Orange Peel, Macadamia Nuts, Brazil Nuts, Filbert, Cashews, Almonds, Pine Nuts, Pecans, Walnuts, Pistachios, Soybeans, Broccoli, Zucchini, Green Beans, Green Bell Peppers, Red Bell Peppers, Freeze-Dried Peas, Spinach, Celery, Parsley
One thing all three have in common is there are whole, unprocessed foods. I use a different mix depending on the mix of birds.
Mixed flock
1/3 Christine's Chop
1/3 Cockatiel Mix
1/3 Parakeet Mix
NOTE! The mixed flock mix is based on the proportion of different birds.
Budgies and parakeets
1/2 Christine's Chop
1/2 Parakeet mix
Cockatiels
1/3 Christine's Chop
2/3 Cockatiel mix
My goal is to gradually transition to the chop food, but it's tricky in an aviary. Are some birds just going to eat the stuff they like and leave the less pushy birds with nothing?
Added to food
Many of my birds suffer from PTSD so I add some calming things to my food mix as well as things that have been proven to improve animal health. As a reference I use 45 cups of food in a container. Here's what I add:
Unruffled Rx Premium Parrot Calming Herbs
That's a mouthful. This contains a long list of dried herbs, each of which can contain a small amount of essential oils. Essential oils have been scientifically proven to improve health and fight against pathogens.
The herbs contained in this mix are:
Alfalfa Leaf, Ashwagandha Root, Astragalus Root, Chickweed Herb, Dandelion Leaf, Echinacea Purpurea Root, Kelp Granules, Lavender Flowers, Lemon Balm, Licorice Root, Marshmallow Root, Olive Leaf, Pau 'd Arco Bark, Spirulina Powder, Thyme Leaf, Wheatgrass Powder
I add a half cup of this herb mix to my container of food. You can also just give your birds the fresh equivalents of any of these herbs.
I sprinkle a very light amount of some probiotic powder to the food mix every morning and then lightly mix it up with my hands or a bamboo skewer. It sticks to the seeds and some gets in their mouths. There is a lot of research, especially on poultry that supports their efficacy.
The administration of the probiotic at the commercially recommended dose promotes better results in the performance, carcass yield and parts, and behavior and well-being of the birds.

Productivity and Well-Being of Broiler Chickens Supplemented With Probiotic
The probiotics come from a 50 year veteran in the avian probiotic industry. Despite a somewhat terrible website, it's the only proven product of its kind.
Diatomaceous earth (I am not an Amazon affiliate)
I add a quarter cup of diatomaceous earth to my food mix container. This is controversial but there's legitimate science behind it. There are proven health benefits and it also protects the food mix from critters roaming around inside.
Added to water
I also add calming and antimicrobial things to my water, but the preparation is much more difficult. Here's what I add:
UnruffledRx Parrot Calming Formula
I have 22 birds and it recommends 1/8 teaspoon for one small bird, so I use 2 tsps daily in a liter of water.
I wrote an article about the research to support the active ingredient in this product, L-Theanine.
Essential oils
For research, I'll requote what I did above. Essential oils have been scientifically proven to improve health and fight against pathogens.
I use one drop of Thyme Oil and Tea Tree Oil in a liter of water. Given birds drink a very small fraction of water, I'm personally not concerned with overdose. If you are, don't do it.
ACV
I use 1 tsp of Apple Cider Vinegar in 1 liter of water. There's some shockingly good research on ACV. This one from the poultry world is eye popping.
In the vinegar group, no clinical signs of coccidiosis were observed. Concentrations of total antioxidants and catalase enzyme activity significantly increased (p≤0.05); while malondialdehyde concentration significantly decreased (p≤0.05).

Anticoccidial Effect of Apple Cider Vinegar on Broiler Chicken: An Organic Treatment to Measure Anti-oxidant Effect
Emulsifier
So, there's a trick to getting essential oils to mix with water. So, here's what I mix together with a hand blender (I am not an Amazon affiliate).
1 drop Tea Tree oil
1 drop Thyme oil
2 Tsp UnruffledRx Parrot calming formula
1/2 Tbsp Sunflower Lecithin (I am not an Amazon affiliate)
1 Liter water
I mix that all up with my hand blender or any blender. The lecithin gives it a slightly brown color, but the birds seem to drink as much as normal. It can also get some foam on top depending on how vigorously you blend it.
What if I don't have much time
It takes an hour for me to prepare and serve this every day for 22 birds. That's a lot of time. There are some things you can do to cut out a lot of time.
If you don't need any of the calming help, you can use plain old water. The essential oils they can get from the dried herbs in the food and the fresh herbs you feed them.
The beauty of adding to the seed mixture is that the DE and the herb mix can be pre-mixed and then you just serve it daily. The only thing that you'd have to add daily is probiotic, which is quite quick.
Conclusion
I wanted to share my regimen and the science to back it up. The difficult part is dosing. Everything I have is either based on poultry research or on human research. Then I just scale it down to bird scale.
For example, they may recommend a tablespoon of ACV twice a day, so I scale that down to bird weight and then take into account that birds drink a very small amount of what you give them (1% maybe?).