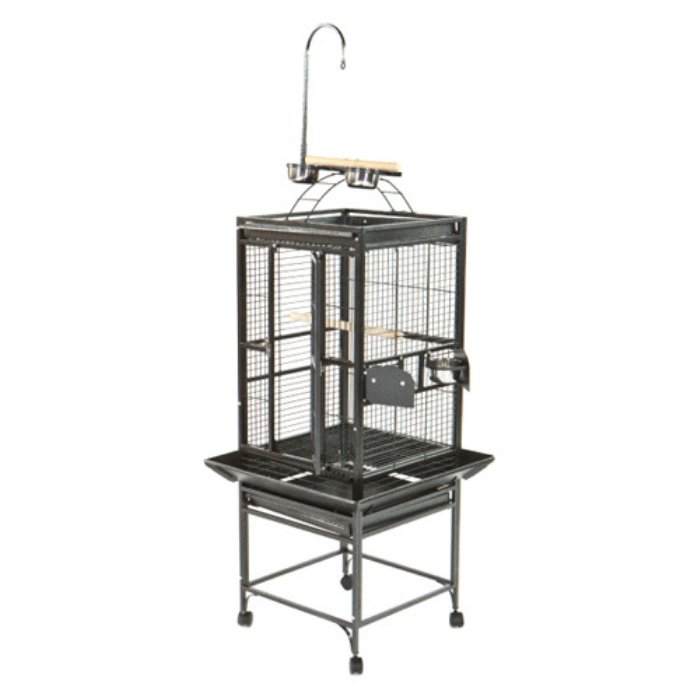 Bird cage brands
Bird cage brands
I'll start off by saying I haven't been paid any money to promote any brands here. 🙂
Since bird cages are so expensive, I tend to not forgive even the smallest faults for that kind of money.
Having said that, I'm disappointed with the two brands of bird cages I've bought before: HQ and A&E Cage. However, I recently tried a new brand: Avian Adventures. Here it is:

I paid $369 for it. The short version is I'm thrilled with this cage. I feel like they really care about the quality of their product. I only ran into a few issues and some things that are inferior to other brands.
Packing
Hands down, the best packing job of any birdcage I've bought. Double and triple-walled cardboard boxes everywhere, no metal parts rubbing together, and a real effort made to prevent important pieces from getting bent or scratched. For something that weighs 108 pounds, that's really important.
Build quality
The bars are thick and heavy and welded nice and straight. There are no sharp edges. The powder coat definitely feels very thick and smooth, but that is subjective. One nice touch is they include touch up paint! This is great to prevent flaking and birds eating the powder coat. Also, this cuts down on the possibility of rust.
Fit
The cage goes together without any screws, like no other cage I've found. For the most part, everything went well but I had two metal pegs that were bent ever so slightly. It was enough that the pieces wouldn't fit together. This is a bummer, but I should point out that every cage I've bought has far worse issues with bent and misshapen parts.
Of special note is the tray that fits below the cage. All the cages I've bought have these and they are usually very poorly constructed. The welds are sloppy, the shape is often not rectangular, and the sizing is not accurate. Sometimes there is no track to slide the tray into which makes it difficult. I've really impressed at how solidly made this tray is and how perfectly it fits.
On the downside, the rack that fits above the tray doesn't have a stopping mechanism, so if you push it in too far, the handle disappears into the slot and you have to reach into the cage or under it to rescue the rack.
Seed/water cups
The cups themselves are just as nice as any cage. However, I really like the mechanism where you open the door completely, then pull out the cup. With the traditional way, it's too easy to spill water or other things as the door moves with the cup. Nice design.
Instructions
The instructions are very terse, but they are actually complete and accurate. So, maybe slightly better than some other cages where I found inaccuracies or missing information.
Latches
I don't like the latches that much. They are not nearly as nice as HQ and I'd say they were only slightly better than A&E, especially in build quality.
Shelf
Most cages on wheels from popular brands like A&E and HQ don't have a shelf for storage on the bottom. If this is useful to you, then Avian Adventures cages are a huge win for you. I love the shelves so much on my cages that I made my own custom shelves on my other cages.
Avian Adventures cages sometimes carry a price premium, but for me, this shelf is worth $50 alone. I later wrote an article about adding your own shelf to a rolling bird cage.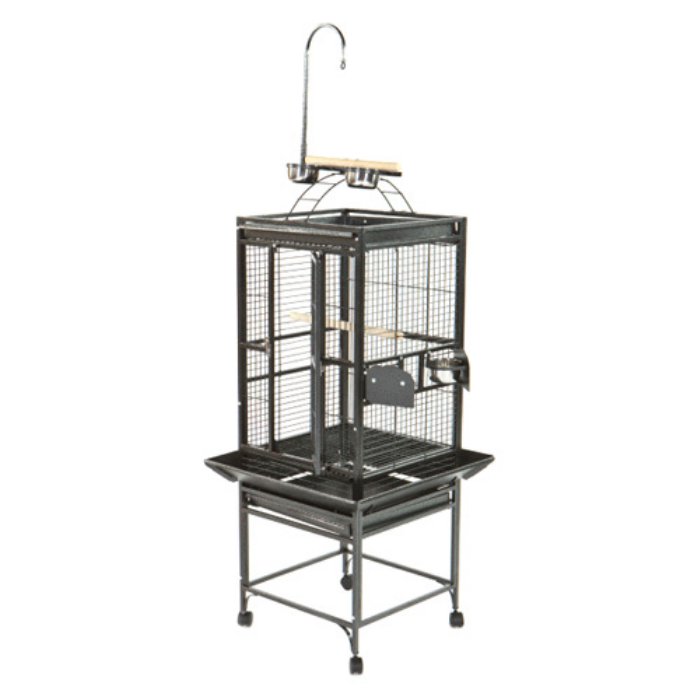 Wheels
I would say they were as nice as the metal rolling casters that come with some HQ cages and definitely better than the usual plastic casters.
I never thought I'd write a gushing article about a cage, but I'm definitely a convert. Although Avian Adventures doesn't have as complete a product line as other companies, I would definitely buy another of their products without hesitation.
Downsides
There is a limited selection of models and they tend to be for birds like cockatiels and larger. The Lorro Flight Cage, their lowest quality cage, in my opinion, is possibly suitable for budgies.
The seed/water cups are slightly smaller than the ones that fit A&E, HQ, and other popular brands. In a mixed brand household, this can be rather irritating.
Dollar for dollar, though, this is the best birdcage I've ever bought. And I've bought a lot!